Office Password Recovery Lastic
Tip: Also you could try to use online password recovery service Password-Find
Program menu
Here is the main menu of the program: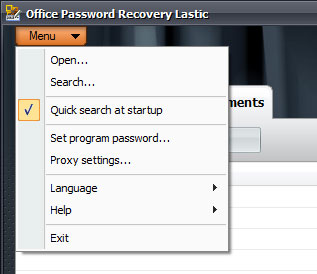 The main menu provides access to main functions of the program.
Open

Select this command to open a password-protected document of one of the supported types. Currently, Office Password Recovery Lastic supports the following document formats:
Microsoft Word documents (DOC, DOT, DOCX, DOCM, DOTX, DOTM).
Microsoft Excel documents (XLS, XLT, XLA, XLSX, XLSM, XLTX, XLTM, XLAM, XLSB).
Microsoft PowerPoint presentations (PPTX, PPTM, POTX, POTM, PPSX, PPSM, PPAM).
Microsoft Outlook Personal Folders and VBA files (PST, OTM).
Microsoft Access databases and workgroups (MDB, MDW).
When you open a document, the program automatically switches to the Password mode and displays all passwords in this document.
Search
This option allows you to perform a search through your disk or a specified folder to find password-protected Microsoft Office documents of all supported types. The results of the search are immediately displayed in the Documents mode so you can start working with them while the search continues. You can stop the search at any time by clicking the Stop button on the toolbar. Please read more about this function here.
Quick search at startup
Check this option to perform a quick search for MS Office documents on startup. The search is performed among files recently opened in any Microsoft Office applications and takes no more than 5 seconds.
Set program password
This option allows you to restrict access to Office Password Recovery Lastic by setting a supervisor password. Thus only those who know the password can run the program and crack document's passwords.
Proxy settings
This command allows you to set proxy settings for your Internet connection. Office Password Recovery Lastic requires an Internet connection to access the Password Server.
Language
This allows you to set the language of program's interface.
Help
This menu provides a way to purchase and register the program and contains the link to the online help you are reading now.
Exit
Choose this to exit Office Password Recovery Lastic.