Outlook Password Recovery Lastic
Tip: Also you could try to use online password recovery service Password-Find
How to recover lost Outlook password
Electronic mail has almost totally replaced its paper cousin. Even a very novice in computer technologies nevertheless has an e-mail account today. Business proposals and appointments, workflow information, serious conversations and frivolous chat all go and are discussed by e-mail. The more dangerous becomes the loss of MS Outlook passwords – indeed, all your personal information, schedules, letters and conversations are suddenly gone and isn't available to you anymore!
Outlook Password Recovery Lastic is an automatic MS Outlook password cracker capable of recovering your lost passwords to your Outlook e-mail account and Personal Folders files (*.pst). A simple tool with the minimalistic interface does the job quickly and accurately restoring an Outlook password almost instantly.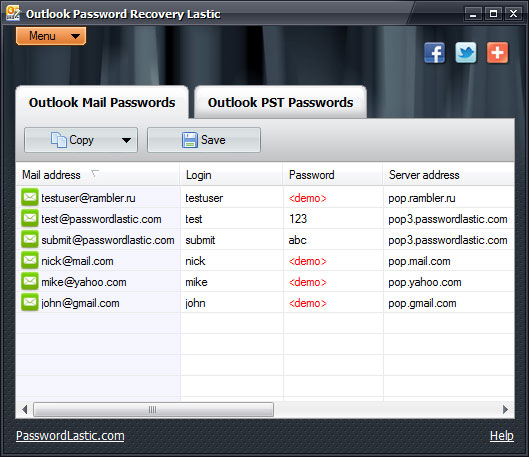 Outlook mail password recovery
Outlook Password Recovery Lastic quickly recovers all e-mail account passwords on the computer, so you can easily restore access to your Outlook mail accounts after that. The process is almost instant; Outlook mail password recovery has never been easier! All you need to do is to simply run Outlook Password Recovery Lastic and switch to the mail passwords tab. All password to all Outlook e-mail accounts will be right there ready to be copied into the clipboard or saved to a file.
Lost a password and stuck? Try Outlook Password Recovery Lastic now and recover your password in a minute! And if you don't want others to learn your passwords using Outlook Password Recovery Lastic, set a master password in the program and feel safe!
Outlook PST password recovery
Outlook stores your personal information, messages and other items in a single Personal Folders file (PST). The password protecting this PST file grants access to all data within, so losing the access password leads to all information stored in your Outlook account becomes unavailable to you.
Outlook Password Recovery Lastic effortlessly restores the security password of a PST file itself. Supporting all Outlook versions – Outlook 97/2000/XP/2003/2007/2010/2013/2016/2019 – the program doesn't require any special knowledge or hacker skills to return access to Outlook Personal Folders. With the "one button does everything" style of the interface, working with Outlook Password Recovery Lastic is extremely easy.
Summary
Automatically recovers Outlook 97/2000/XP/2003/2007/2010/2013/2016/2019 PST passwords and mail passwords.
Instant Outlook password recovery.
Recovers mailbox parameters: SMTP settings, login, password, e-mail address.
Allows copying cracked passwords to the clipboard or saving to a file.
A powerful search function allows you to find all password-protected Personal Folders files (PST) and recover passwords without hitches.
Simple, minimalistic interface.
Allows to set a master password to protect Outlook Password Recovery Lastic from unauthorized access.
Legality of password recovery
Password recovery programs offered on our website are designed for legal purposes. Recovering or resetting your own passwords is a legal operation. Though you should bear in mind that recovering other users' passwords without their permission can be considered illegal in courts of many countries.
Your use of our password recovery software implies that you have the proper right or the permission from the data owner to access the concealed information. The PasswordLastic company is not responsible for any illegal use of this software.