Word Password Recovery Lastic
Tip: Also you could try to use online password recovery service Password-Find
How to recover lost Word password
A single forgotten password can deliver a bunch of problems: a document you urgently need suddenly becomes unavailable and all you can do is to desperately try dozens of password variants in attempt to guess the correct one. If this situation sounds familiar to you, you should consider Word Password Recovery Lastic tool.
This simple utility quickly restores or removes Microsoft Word password and thus doesn't let you lose your work. Word Password Recovery Lastic support recovery or removal of all types of passwords MS Word has: a password to open a document, a password to modify a document, a document protection password and a VBA project password.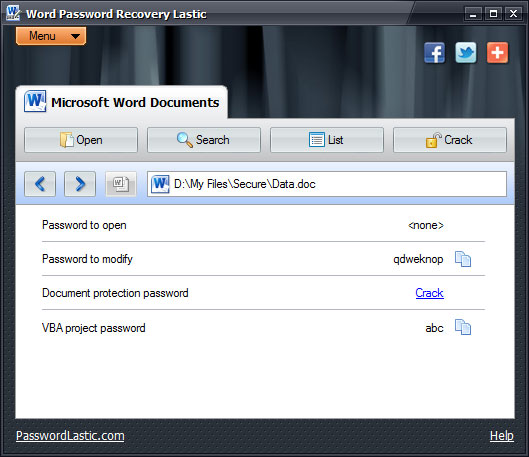 Recover individual MS Word passwords
A powerful crack mechanism underlying the program allows you to crack any MS Word password almost instantly. A common situation: you urgently need to open a document, but have lost the password. With Word Password Recovery Lastic you simply remove the password from the document and open it as normal! What if you can open the document, but cannot put any modifications into it due to a lost password? Not a problem either – load that file into the application and recover word password in a few seconds! VBA project password as well as document protection password could be cracked the same way.
To break any individual MS Word password, simply open the document you need and click the Crack button. Few seconds later, you will see all passwords of that document recovered or reset. It is that simple! Also important to note, that our password cracker uses a secure and powerful Server to remove password to open MS Word 97/2000/XP/2003 document.
Crack multiple MS Word documents
However, what differentiates Word Password Recovery Lastic from a bunch of similar tools is its ability to recover passwords of multiple documents simultaneously. The tool swiftly searches your local drive and locates all Microsoft Word documents protected with a password. After that you can crack all passwords in these documents with a single click!
Recovering MS Word passwords has never been easier! Indeed, what if you want to recover lost passwords from dozen of documents scattered across the entire disk? Normally, you would have to load each document to a password-cracking software or online service, but with Word Password Recovery Lastic you simply run the search so it would found all the docs for you, then you click the Crack button to recover or reset all passwords at once. Sounds like a more proper way to crack passwords.
An option to search for recently opened password-protected Word documents upon startup of the program adds another bit of convenience.
Forgot Word password? – We can Help!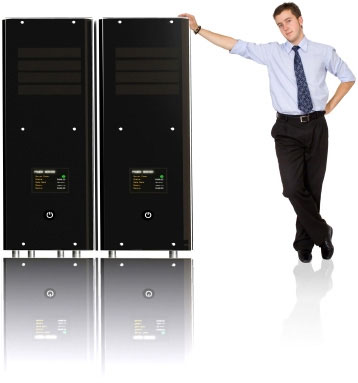 The Use of Password Server Technology
Word Password Recovery Lastic removes passwords to open Microsoft Word 97/2000/XP/2003 documents using an industry-unique technology called "Password Server". The idea of the Password Server is that it stores data and algorithms required to crack almost any Word password basing on the crypto information from a document. This works as follows: instead of transferring the entire document to the Password Server (which is not only insecure, but also requires a heavy bandwidth), Word Password Recovery Lastic sends to the server only cryptographic data from the document. Using these data the password server finds an appropriate key and sends it back to the program. Finally, the tool applies this decryption key to decrypt the document and remove the password protection from it.
This method has several advantages:
The entire procedure works almost instantly (less than 10 seconds) and doesn't depend on the length of a password.
Neither the document contents, nor your personal information are transferred anywhere, and thus remain confidential.
The original file remains unchanged, because all the work is done with a copy of it.
Summary
Word Password Recovery Lastic recovers and removes MS Word 97/2000/XP/2003/2007/2010/2013 passwords (read the system requirements for more info).
Word Password Recovery Lastic supports recovering or cracking multiple passwords from any number of MS Word documents at once.
Allows to crack password to open, password to modify, document protection password, VBA projects password of Microsoft Word document.
Uses the unique Password Server to remove password to open Word 97/2000/XP/2003 document almost instantly. Ultimate password remover tool.
The search for protected documents allows you to find all MS Word files protected with a password on your disk.
Allows copying any recovered password to the clipboard.
Has obvious and simple interface with multi-language support. Allows to recover word password with no problems.
Legality of password recovery
Password recovery programs offered on our website are designed for legal purposes. Recovering or resetting your own passwords is a legal operation. Though you should bear in mind that recovering other users' passwords without their permission can be considered illegal in courts of many countries.
Your use of our password recovery software implies that you have the proper right or the permission from the data owner to access the concealed information. The PasswordLastic company is not responsible for any illegal use of this software.