Office Password Recovery Lastic
Tip: Also you could try to use online password recovery service Password-Find
Search for protected documents
Office Password Recovery Lastic not only cracks passwords, but it automatically finds password-protected documents on your disk. To run a search, either click the Search button on the toolbar or select this command from the main menu. You should see the following dialog then: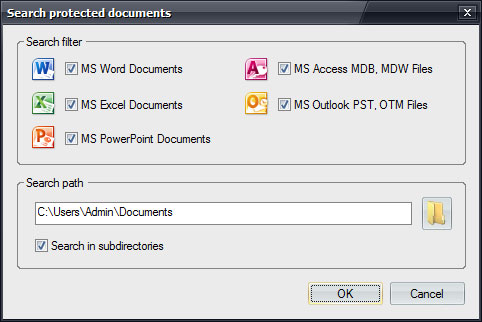 Select the document types you would like to search. Currently Office Password Recovery Lastic supports Microsoft Word, Microsoft Excel, Microsoft PowerPoint, Microsoft Access and Microsoft Outlook documents.
Also you should browse for a path to search documents in. The "Search in subdirectories" option allows you to scan all sub-folders of the initial folder too.
Click the OK button to run a search. Note that as the search continues, it immediately displays the results in the main window. Thus you don't have to wait until it finishes and you can view recovered passwords immediately.