VBA Password Recovery Lastic
Tip: Also you could try to use online password recovery service Password-Find
Program menu
The main menu of the program looks like that: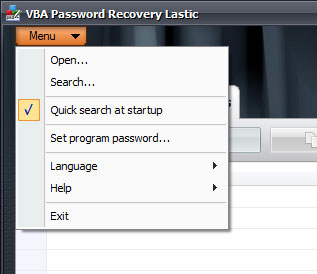 Here the commands available via the main menu:
Open
This command allows you to open a Microsoft Office document with a VBA project protected with a password. The following documents are supported: MS Word document, MS Excel spreadsheet, MS PowerPoint presentation and MS Outlook VBA module files (OTM).
Search
The search function provides an easy way to open multiple documents of various types. Simply run a search, select what documents you need and the program finds them for you. You can read more about the search function here.
Quick search at startup
This option allows you to turn on or off the quick search for recently opened Office documents at the startup of VBA Password Recovery Lastic.
Set program password
This command sets a program password – an option that restricts access to the program by asking that password at the startup.
Language
Select the language of the program's interface.
Help
This directs you to the online help you are reading now, and also provides the way to purchase and register the program.
Exit